FULLY STOCKED GOLF SHOP
Surrounded by Southwestern-inspired architecture and ambiance, the Golf Shop at We-Ko-Pa Golf Club delivers everything you may need for your next round of golf. But it's more than a place to find the latest fashion, shoes and equipment. The Golf Shop also offers a wide variety of gift ideas and unique keepsakes to remind you of your incredible experience at We-Ko-Pa for years to come.
With an atmosphere and inventory keenly tuned to timeless trends, it's no wonder why the Golf Shop at We-Ko-Pa has also been regularly recognized as one of the "100 Best Golf Shops." And, We-Ko-Pa's new online shopping experience allows you to browse and buy selected merchandise from the golf shop at any time, from anywhere.
Give a Gift Card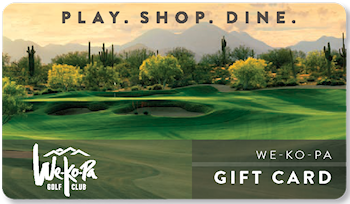 We-Ko-Pa Gift Cards make the perfect treat for the golfer(s) in your life. They can be redeemed for just about anything at We-Ko-Pa Golf Club, including merchandise in the golf shop, green fees or for food and beverage in the We-Ko-Pa or Saguaro Grilles.
Flexibility is important to any golfer; it seems like you never know what you need for your next round until you arrive at the club. It could be a sleeve of balls or a grab-and-go sandwich on the way to the first tee. We-Ko-Pa Gift Cards cover them all.
Plus, with gift cards, there's no guesswork. Let's face it, most non-golfers don't know the difference between TaylorMade and Rubbermaid. Gift cards allow golfers to pick out exactly what they want. You never have to worry about getting the right brand, style or returning something that didn't fit. The only "size" you have to choose is the size of the purchase. That's why they come in a variety of values ranging from $25 to $500.
Which boxes do you need to check?
Birthdays
Father's Day
Mother's Day
Graduations
Bosses Day
Thank You
Anniversary
Promotions
Christmas